The Hysun Electrical-Hydraulic Pop-up containers are popular as a magic space in the middle of the city, in the business street or scenic spot, and free to move.
Product Description
The Hysun Electrical-Hydraulic System Auto Control Pop-up Container. (HY-P series) is a compact and mobile unit that converted from the new 20GP/20HQ/40GP/40HQ and uncovers a fully multifunction building at the touch of a button. Usually, the shipping container transforms into 3 times when the walls of the container are folded back.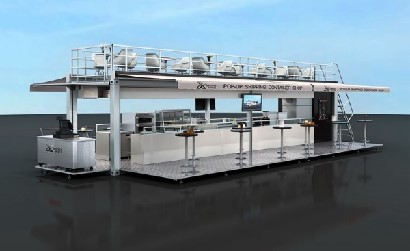 Specification
| | |
| --- | --- |
| Type | HY-P001 |
| Standard size | 20GP/20HQ/40GP/40HQ |
| Weight approx | 3.5-4.0 tons |
| Color | Optional |
| Open size | 7258*7000*2591/2896mm |
| Electricity | CE, UL, AZ, etc. valid. |
Our Advantages
We are always insisted on using new customized containers to convert to your house. They are made of Corten A steel under SGS standard, important, they are ready to cut and welding from your design before painting also the same material and quality as the ISO maritime container.
They are different from the most way in the market to cut a new maritime container then paint(this way also would damage the original paint of maritime container and reduce the life span of the house).
For the materials, we are always insisted on high quality, too.
Packing & Delivery

SOC
Transport and ship with SOC style. SOC: Shipper own container
To better ensure the safety of your goods, professional, environmentally friendly, convenient, and efficient packaging services will be provided.