1、 Offer side open container, tunnel container, and customized design container
2、 Offer side open container, tunnel container, and customized design container
Product Description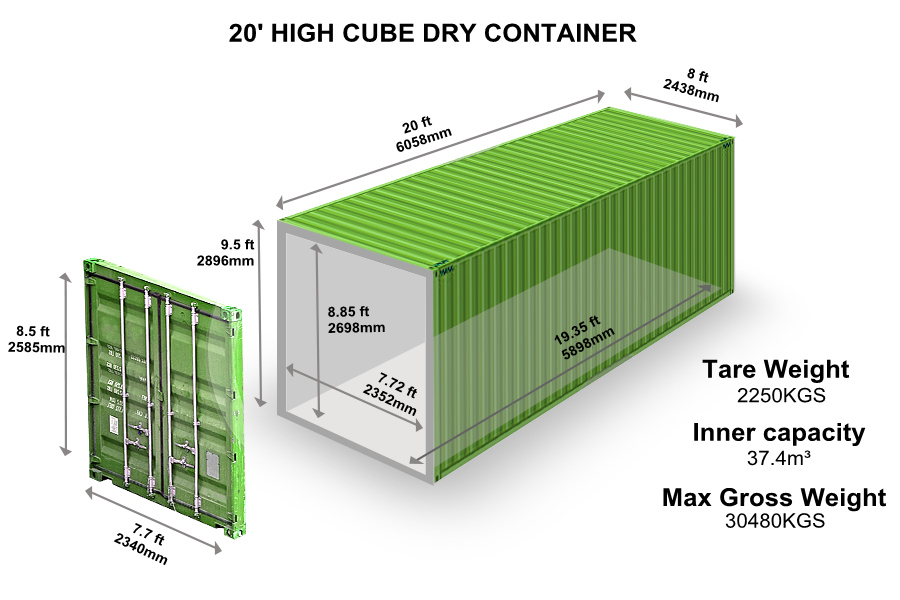 | | |
| --- | --- |
| External Dimensions (L x W x H)mm | 6058x2438x2896 |
| Internal Dimensions (L x W x H)mm | 5896x2352x2698 |
| Door Dimensions (L x H)mm | 2340×2585 |
| Inner capacity | 37.4 CBM |
| Tare Weight | 2250 KGS |
| Max Gross Weight | 30480 KGS |
Maritime Container Material List
Corner: ISO standard corner, 178x162x118mm
Floor Beam for short side: Steel: CORTEN A, thickness: 4.5mm
Floor Beam for long side: Steel: CORTEN A, thickness: 4.0mm
Floor: 28mm, intensity: 7260kg
Column: Steel: CORTEN A, thickness: 6.0mm
Inner column for the backside: Steel: SM50YA + channel steel 13x40x12
Wall panel-long side: Steel: CORTEN A, thickness: 1.6mm+2.0mm
Wall panel-short side: Steel: CORTEN A, thickness: 2.0mm
Door Panel: Steel: CORTEN A, thickness: 2.0mm
Horizontal beam for the door: Steel: CORTEN A, thickness: 3.0mm for standard container and 4.0mm for high cube container
Lockset: 4 set container lock bar
Top Beam: Steel: CORTEN A, thickness: 4.0mm
Top panel: Steel: CORTEN A, thickness: 2.0mm
Paint: The paint system is guaranteed against corrosion and/or paint failure for a period of five (5) years.
Inside wall paint thickness: 75µ Outside Wall paint thickness: 30+40+40=110u
Outside Roof paint thickness: 30+40+50=120u Chassis paint thickness: 30+200=230u
Applications or special features
1. waterproof and safe.
2. convenient for loading, lifting, moving.
3. It can be made as to the workshop, house for the battery group device, oil engine, water treatment equipment, electrical power and so on as the working box ;
4. for the convenient move and save cost, more and more customers try to fix their device, such as the generator, compressor, on a container.
5. can adjust the sizes, structures according to different devices' requirements.
Certificate