Product Description
HYSUN modular solutions serve as corporate headquarters, satellite bureaus, institutional and administrative buildings, and offices for small businesses. Modern single- and multi-story buildings can be configured in a number of ways to include independent offices, conference rooms, elegant lobbies, kitchens, restrooms, and large open spaces for cubicles or other partition systems. This is a bank office made of 3*20GP and external wall cladding.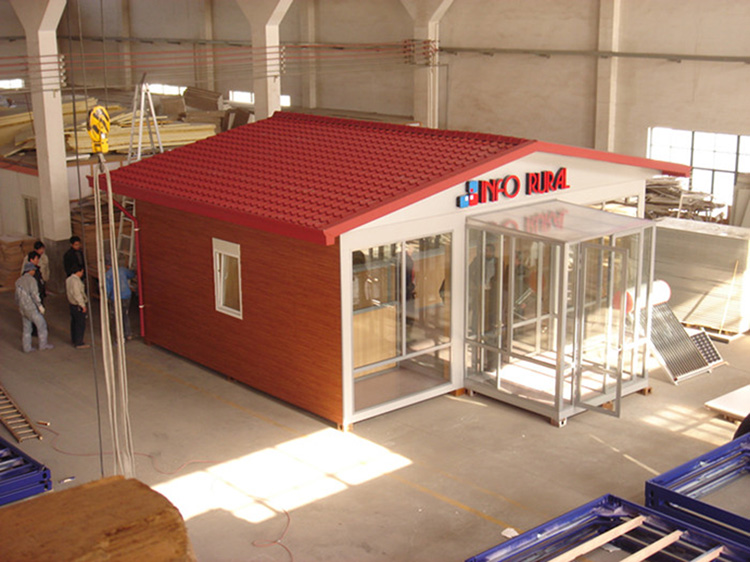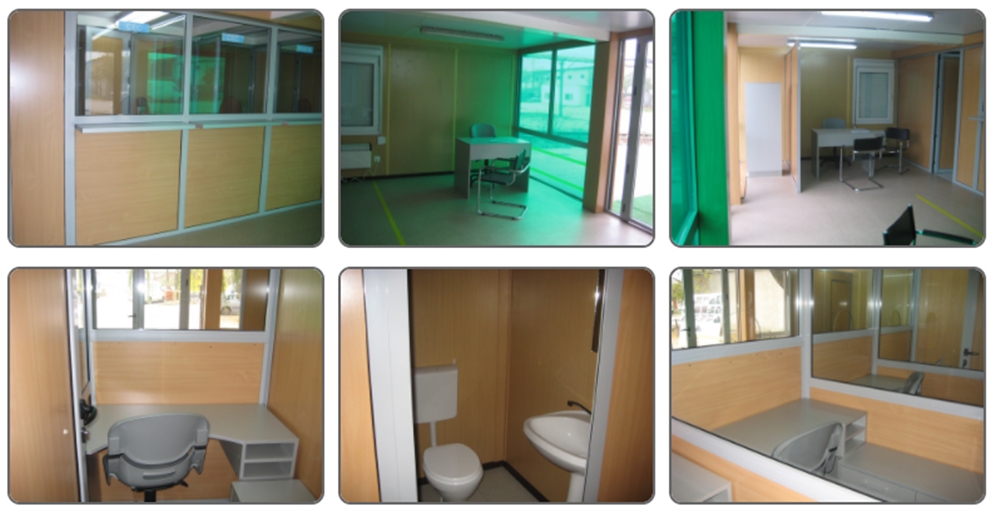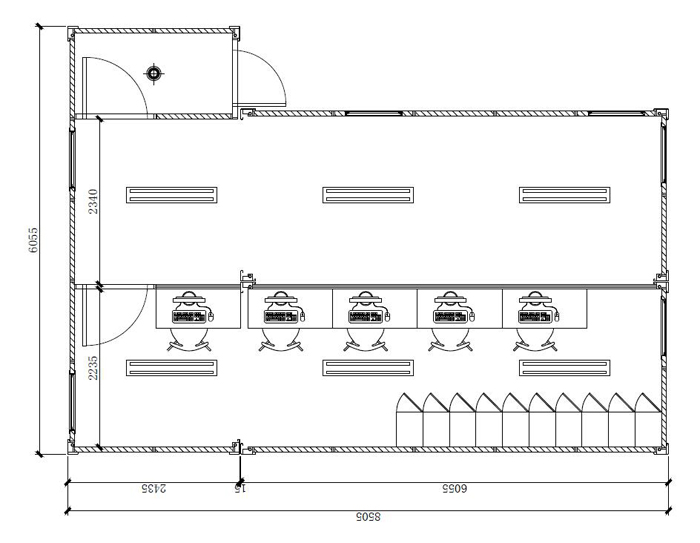 Technical Data
External cladding: 0.5mm thick color steel plate;
Rail height: 1100mm;
Double open door: 1200*2040Aluminium alloy window:800*1100;
The size of the module container for this bank:
External length/Inner length: 6055/5860mm;
External width/Inner width: 2435/2240mm;
External height/Inner height: 2810/2500mm.
Structural Strength:
Floors: 250Kg/Sq. M; Roofs (of modules): 150Kg/Sq. M;
Walkway: 500Kg/Sq. M; Stairs: 500Kg/Sq. M;
Walls: Wind at 220 Km /Hour.
Thermal insulation:
Floor: 0.34W/Sq. M/° C;
Walls: 0.20W/Sq. M/° C;
Roofs: 0.30W/Sq. M/° C.
Material List
Dimension: L6055*W2435*2790MM
Steel structure: Cold rolled steel structure with corner casts and forklift pockets 90x256x2050mm
Wall panel Exterior Cladding: 0.5mm thick corrugated or flat galvanized coated steel sheet
Wall panel Insulation: 60mm, 70mm, 80mm, 100mm
Wall panel Internal Cladding:
A- 9mm thick chipboard with Laminated E1 EmissionValued
B-0.5mm thick galvanized and coated color steel sheet.
Parallel compressive strength = 18.1 MPa;
Formaldehyde emission ≤ 0.1mg/100g;
Water expansion ratio = 0.2%;
Low smoke and non-flammable;
Flammability class A1 – non-combustible;
Smoke density: low smoke emission;
Floor System:
3mm thick cold rolled & welded steel profiles;
Subfloor: 0.5mm thick, galvanized steel sheet;
Floor Board: 18mm magnesium(water resistant v 100);
The board complies with the emission value E 1;
Parallel compressive strength = 35.7 MPa;
Formaldehyde emission ≤ 0.4mg/100g;
1.5mm thick vinyl sheet;
Flammability class B1 – hardly combustible;
Smoke density class Q1 – low smoke emission;
Welded seams.
Fiber cement floor:
Density: 1.26kg/m3 K= 0.18W/m*k;
Waterproof, moisture content = 0.13%/m2
Formaldehyde emission = 0.2 mg/ 100g;
Deformation, parallel to the bending elasticity = 6055MPa
Flooring Cover: 1.5mm thick vinyl sheet; [ Pattern on option ]
Roof Steel Frame: 4mm thick cold rolled & welded steel profiles
Roof Cover:
0.5mm thick galvanized sheet & double folded in the roof middle;
Ceiling:
9mm chipboard(V20), White(Usual), insulation rock wool
Roof panel:
A-4mm thick cold rolled & welded steel profiles, Screwed to the floor base frame and roof frame.
B-3mm thick cold rolled & welded steel profiles, Screwed to the floor and roof frame. [ alternative ]
Entrance door:
Right or left hand hinged;
Inward or outward opening;
Steel frame with triangular wrap-around sealing;
Door blade with galvanized steel sheets on both sides; Insulated with honeycomb;
Aluminum or Steel type;
Regular size: 870*2040mm, 870*1995mm.
Window:
PVC frame with insulated glazing and
Color: white;
Tilt & turn mechanism or sliding;
Regular size: 800*1100mm.
Shutter: integrated Aluminum roller shutters; [ ON OPTION ]
Electrical system:
Included: Waterproof Industrial Plug: 2 pcs, Use the power directly
Distribute Box: 1 set
Outlet: 2 pcs
Light: tube light or ceiling light, 2 pcs
Switches: 1 set with 2K
Electrical Certification: CE,AS/NZ,UL. [ According client's demand ]
Packing & Delivery
4 units/20GP, 8 units/40HQ
Load: 4 kits shipped as 1*20GP
Be noted: we have shipping certification from the classification society