Product Description
Item Number: HY-A219Size: L12125* W4885* H2790MM (Welcome to customize )Layout: One open area and one Terrance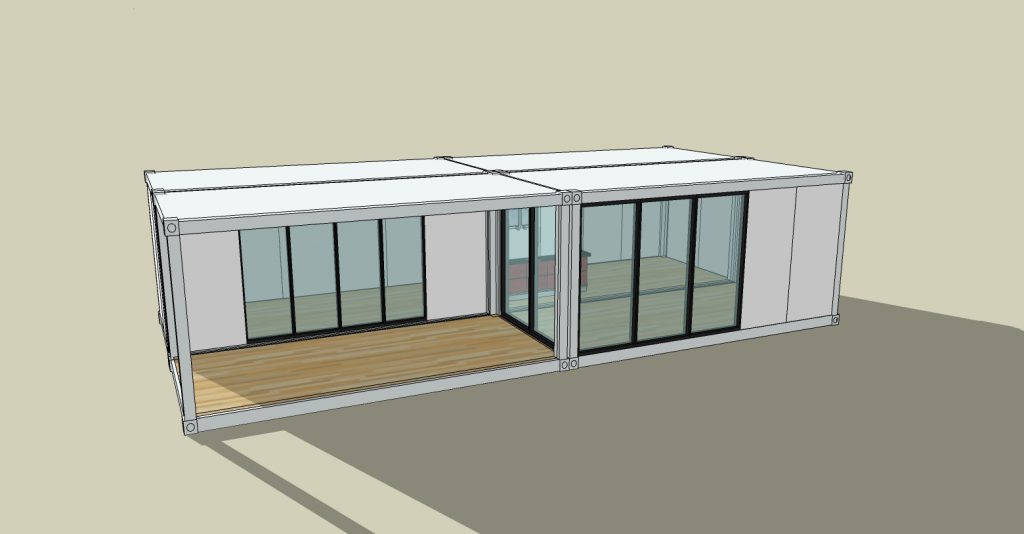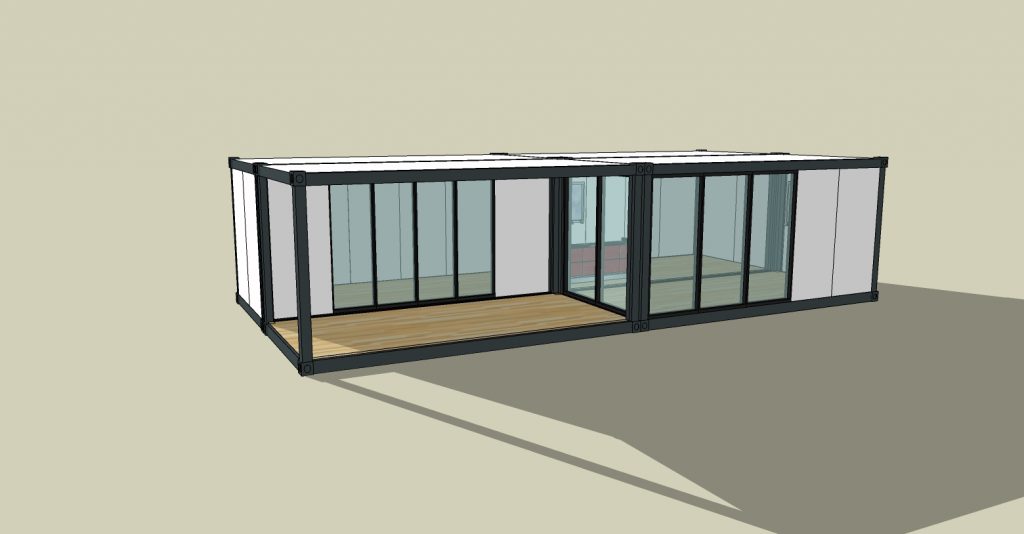 Specification
| | |
| --- | --- |
| item | value |
| Warranty | 1 YEAR |
| After-sale Service | Online Technical Support, Onsite Training, Free spare parts |
| Project Solution Capability | Graphic Design, 3D model design, total solution for projects |
| Application scenarios | Outdoor |
| Place of Origin | China |
| Brand Name | Hysun |
| Model Number | Hy-A219 |
| Use | House, Kiosk,Booth, Office, Shop |
| Product Type | Sandwich Panel Houses |
| Design Style | Modern |
| External size | 6055*2435*2790mm |
| Internal size | 5855*2235*2500mm |
| Roof load | 1.5KN/sqm |
| Floor load | 2.5KN/sqm |
| Wind load | 180km/h (Chinese standard) |
| Seismic fortification intensity | magnitudes 8 |
| Suitable temperature scope | -50°C~+50°C |
| Earthquake resistance | Grade 7 |
Material List
Dimension: L6055*W2435*2790MM
Steel structure: Cold rolled steel structure with corner casts and forklift pockets 90x256x2050mmAvailable size, 8ft x 10ft, 8ft x 16ft, 8ft x 20ft, 8ft x 24ft, 8ft x 30ft, 10ft x 20ft
Wall panel Exterior Cladding:
0.5mm thick corrugated or flat galvanized coated steel sheet
Wall panel Insulation: 60mm, 70mm, 80mm, 100mm
Wall panel Internal Cladding:
A- 9mm thick chipboard with Laminated E1 EmissionValued
B-0.5mm thick galvanized and coated color steel sheet.
Parallel compressive strength = 18.1 MPa;
Formaldehyde emission ≤ 0.1mg/100g;
Water expansion ratio = 0.2%;
Low smoke and non-flammable;
Flammability class A1 – non-combustible;
Smoke density: low smoke emission;
Floor System:
3mm thick cold rolled & welded steel profiles;
Subfloor: 0.5mm thick, galvanized steel sheet;
Floor Board: 18mm magnesium(water resistant v 100);
The board complies with the emission value E 1;
Parallel compressive strength = 35.7 MPa;
Formaldehyde emission ≤ 0.4mg/100g;
1.5mm thick vinyl sheet;
Flammability class B1 – hardly combustible;
Smoke density class Q1 – low smoke emission;
Welded seams.
Fiber cement floor:
Density: 1.26kg/m3 K= 0.18W/m*k;
Waterproof, moisture content = 0.13%/m2
Formaldehyde emission = 0.2 mg/ 100g;
Deformation, parallel to the bending elasticity = 6055MPa
Flooring Cover: 1.5mm thick vinyl sheet;   [ Pattern on option ]
Roof Steel Frame: 4mm thick cold-rolled & welded steel profiles
Roof Cover: 0.5mm thick galvanized sheet & double folded in the roof middle;
Ceiling:
A-50mm Steel Sandwich panel(Option 1);
B-9mm chipboard(V20), White(Usual), insulation rock wool(Option2);    [ alternative ]
Roof panel:
A-4mm thick cold rolled & welded steel profiles, Screwed to the floor base frame and roof frame.
B-3mm thick cold rolled & welded steel profiles, Screwed to the floor and roof frame. [ alternative ]
Entrance door:
Right or left hand hinged;
Inward or outward opening;
Steel frame with triangular wrap-around sealing;
Door blade with galvanized steel sheets on both sides;
Insulated with honeycomb;
Aluminum or Steel type;
Regular size: 870*2040mm, 870*1995mm.   [ 1 pc ]
window: PVC frame with insulated glazing and
Color: white;
Tilt & turn mechanism or sliding;
Regular size: 800*1100mm.
shutter: integrated Aluminum roller shutters;   [ ON OPTION ]
Electrical system:
Included: Waterproof Industrial Plug: 2 pcs, Use the power directly
Distribute Box: 1 set
Outlet: 2 pcs
Light: tube light or ceiling light, 2 pcs
Switches: 1 set with 2K
Electrical Certification: CE, AS/NZ, UL.   [ According to client's demand ]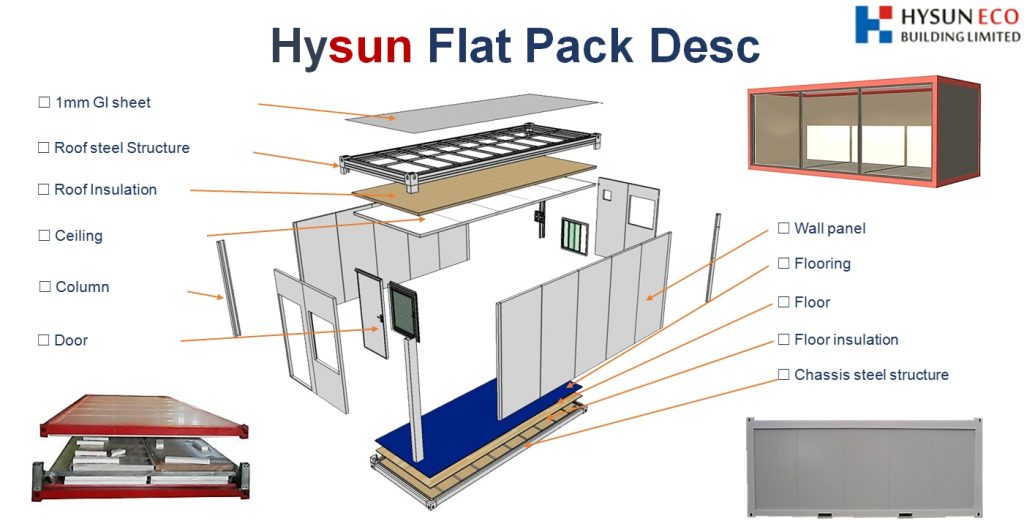 Features
Hysun Flat Pack containers are nothing more than redesigned maritime containers to meet the expectations and architectural needs of your buyer and designer.
Flat pack containers can bring the infinite advantages: 1. Superior quality.
2. Time saving in construction.
3. Great savings of money.
4. Harmless construction.
5. Resistance and security.

Packing & Delivery
4 units/20GP, 8 units/40HQLoad : 4 kits shipped as 1*20GP Be noted: we have shipping certification from classification society